Warsaw School of Computer Science welcomes foreign university students for programs of study exchange and summer internships.
---
WSCS Guide for Incoming Students (PDF 4.24 MB)
A Foreign Student Guide to Warsaw (PDF 8.8 MB)

STUDY PERIOD AT WSCS: 
If you're interested in spending a semester at WSCS, check the information about our study programs https://wscs.eu/candidates/ and practical information about getting to Poland and arranging your stay here https://wscs.eu/candidates/practical-information/
Once you've decided on the study program, make sure you're eligible for Erasmus+ mobility by checking with your Institutional Erasmus+ Coordinator all the necessary steps you need to take to participate in such an exchange.
When eligible, you will be granted a nomination by your sending institution, which will open up the process for creating your own Learning Agreement that would specify all terms and conditions of your study period at WSCS.
It should be noted that any exchange for studies at Warsaw School of Computer Science is only possible under a bilateral agreement previously signed by WSCS and another higher education institution (HEI).
If your institution is not on the list of the WSCS partner universities, make sure your International Officer contacts our Institutional Erasmus+ Coordinator's office to establish a necessary partnership.
TRAINING PROGRAM AT WSCS: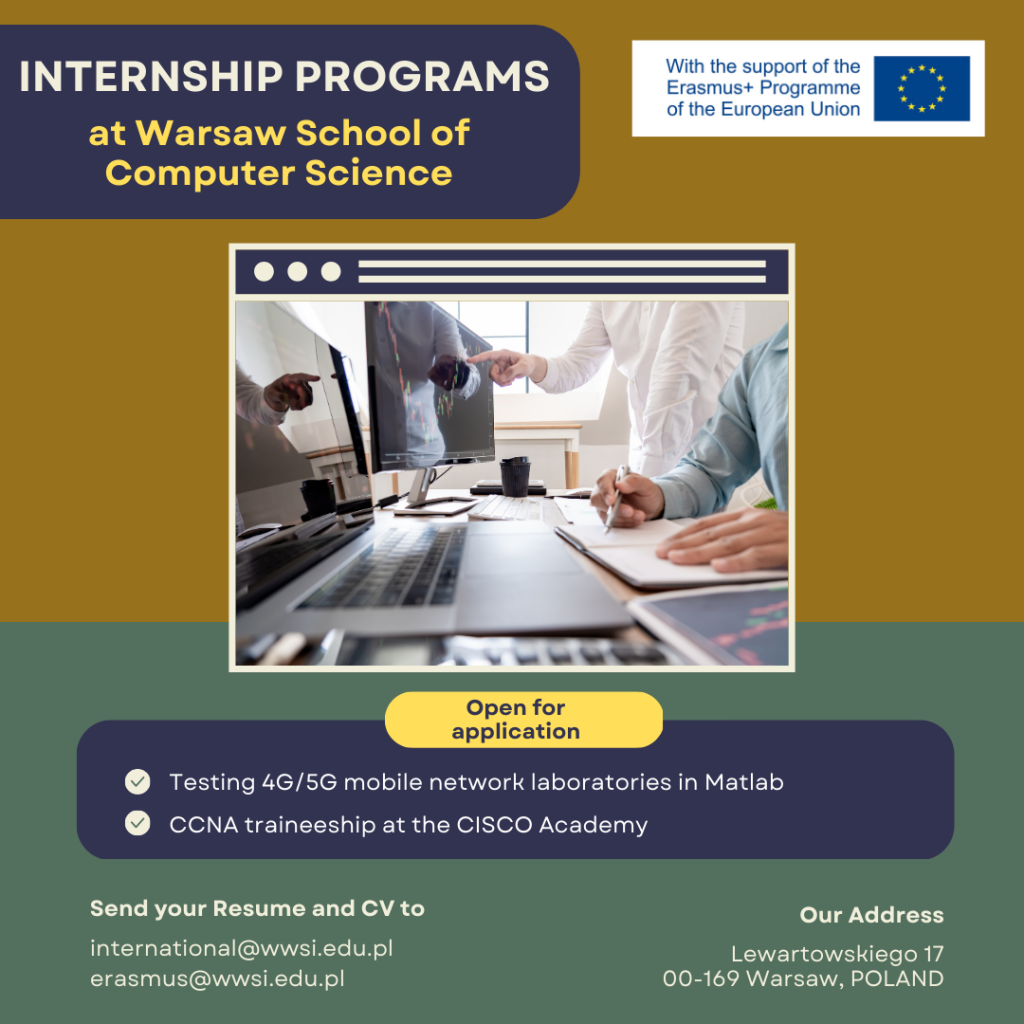 Warsaw School of Computer Science presents its offer of free internship programs as part of the WSCS Research Laboratories. This summer, our professors have prepared two programs in English for students from abroad:
Testing and expanding 4G/5G mobile network laboratories in MATLAB, starting in June;
CCNA training as part of the Cisco academy at WSCS, starting in July;
The application is open until May 15th, 2023. We're waiting for you at our institution!
* Student accommodation and other extra costs should be covered by the student's sending institution from Erasmus+ funds.
Students will be granted certificates of completion at the end of their three-month internship period.